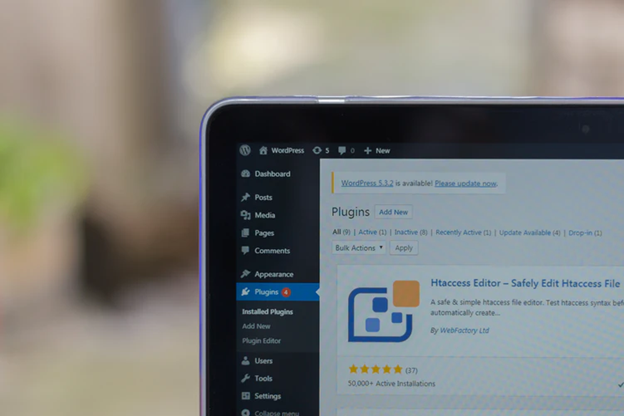 Making mistakes when building a WordPress website is pretty common, especially for beginners. It's because they're sometimes too focused on only certain aspects, like branding guidelines and content creation, overlooking the other steps.
Meanwhile, ignoring elements like security and performance can impact the website's functionality. The website may become prone to hackers and have slow loading times.
Luckily, it's possible to avoid these mistakes and their consequences. This article will share seven common WordPress mistakes and provide several tips on stopping them before they happen.
1. Not Knowing About WordPress.com and WordPress.org
Although WordPress.com and WordPress.org look similar, they're different in many ways.
WordPress.com is a hosted WordPress platform. It offers an all-in-one package that includes fundamental features like domain name and hosting. WordPress.com is easier to start with, but it has less freedom when it comes to customization compared to WordPress.org.
Meanwhile, WordPress.org is a self-hosted platform. Meaning, you have to buy a hosting service separately. This option provides more freedom in many aspects, including themes and plugins. However, you're responsible for various settings yourself, like maintenance and updates. Being a WordPress development company it's essential to get updated with each and every WordPress updates and know the difference between WordPress.com and WordPress.org.
Ensure that you choose a reliable hosting provider when choosing WordPress.org, it's because a web host will determine multiple essential features of your website, including performance and security.
2. Not Optimizing the Website for SEO
Search engine optimization (SEO) helps you rank higher on search engines. As a result, more users can find your website.
There are many optimization methods available, but here are some of the most important ones:
Install a WordPress SEO plugin. Analyze the SEO using features like a page analysis tool and an internal link tracker. The best SEO plugins are AIOSEO and Yoast SEO.
Do keyword research. Find relevant and popular words in your niche. Free keyword tools include Google Trends and Ahrefs' Keyword Generator.
Adjust the permalink structure. Refer to the full URL for your pages and posts. The ideal setting is the Post name option so that you can include keywords on the URL. To change the setting, go to Settings -> Permalinks, choose Post name, and hit the Save Changes button.
3. Ignoring Website Performance
Your website loading speed highly influences your visitors' behavior, as 25% of people will abandon a website that takes more than four seconds to load. Loading time also affects your SEO as it is one of Google's ranking factors.
To evaluate your website performance, use tools like PageSpeed Insights and Webpagetest.org. They give you detailed information about your website performance and suggestions for improvements if necessary.
4. Forgetting About Backups
Doing regular backups is essential to your website security. It helps recover data loss quickly due to various reasons like human error, website hack, or server crash.
Many hosting companies offer automated backups, so ensure that your service contains this feature too. If not, consider installing a backup plugin like UpdraftPlus or VaultPress. These tools can automatically do daily or scheduled backups without slowing down your website.
It's also essential to store backup files on a cloud storage service like Dropbox or Google Drive in case the web hosting server experiences some issues.
5. Not Setting Up Google Analytics
Monitoring visitor activity on your website helps you learn which content works well or needs improvement. One way to do this is by using Google Analytics. It can track essential metrics, such as user behavior and sources of traffic.
To add Google Analytics to your WordPress, follow these steps:
Install Google Analytics Dashboard Plugin for WordPress by MonsterInsights.
Click Insights on the left-hand menu -> Launch the Wizard!
Pick a category that best describes your website.
Click the Connect MonsterInsights button.
Sign in with your Google account and allow MonsterInsights to access it.
Hit the Complete Connection button.
If you need basic knowledge on navigating Google Analytics, consider enrolling in the Google Analytics for Beginners course. You'll learn how to understand the reports and apply them to your campaigns.
6. Choosing the Wrong WordPress Theme
WordPress themes influence not only your website's appearance but also its functionality. For instance, specific themes are not compatible with particular plugins, making it challenging to extend features on your website.
When picking a WordPress theme, consider some elements, such as:
Responsive design. This means the theme will adjust automatically to fit different screen sizes.
Easy customization. Offers many options and works with plugins you need.
SEO friendliness. The theme should be optimized for speed and performance.
Some top WordPress themes that check the requirements above are OceanWP and Astra WP. They even support additional necessities, like multilingual support and eCommerce integration.
7. Not Securing the WordPress Website
Hackers can use an unsecured website to spread malware or steal data. Therefore, it's necessary to secure your WordPress website.
One way to protect your website is to use unique login credentials.
Create a complex password and avoid using the default name admin as your username because it's easy to guess for the hackers. To change your username, go to phpMyAdmin from your control panel. Click wp_users -> Edit.
Then, change the value with the new username and click Go.
Also, update your systems regularly, including your WordPress version, theme, and plugins.
The older versions may contain security vulnerabilities, helping unauthorized users easily access your website. In fact, over 85% of sites are hacked due to outdated WordPress, themes, and plugins.
Go to Dashboard -> Updates to see updates from WordPress and your plugins and themes.
Conclusion
We're all humans that sometimes make mistakes, including when creating a WordPress website.
To recap, here are common WordPress mistakes to avoid:
Not noticing the difference between WordPress.com and WordPress.org.
Not optimizing the website for search engines.
Ignoring website loading speed.
Not backing up the website data.
Not setting up Google Analytics.
Picking the wrong WordPress theme.
Not paying attention to the website security.
Make this list your checklist before launching your WordPress website. Also, consider visiting WordPress.org or WordPress.com Support Forums if you want to learn more about WordPress users' common mistakes.