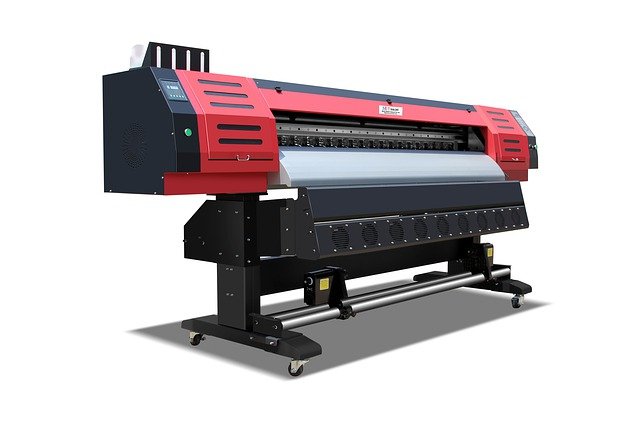 It can be confusing and overwhelming when you need to find a printer for your t-shirt printing. There are so many options out there. Which one is the best? You want to make sure that you pick one that will give you the print quality work you're looking for without breaking the bank.
In this blog post, we'll go over some tips on picking the perfect printer for your needs.
Inkjet or Laser Printers?
So how much do you plan on printing? An inkjet printer uses ink cartridges, which can be more expensive over time. They also require a higher quality printer head to move back and forth across the page, so they're not ideal for larger jobs.
Laser printers are better for larger printing jobs, as the print head doesn't move, but the toner can be more expensive than ink.
Which printer is best for heat transfer printing depends on how much heat press printing you plan on doing. If you only need heat transfer prints on a few heat transfer t-shirts every now and then, an inkjet printer will work just fine. If you're looking to print in bulk, a laser printer is the better option.
Speed, Color Claims, and Resolution
Printer manufacturers back in the day could lay claims of how fast their printers were and what page yield was expected from a toner or ink cartridge. Today the international organisation for standardisation (ISO) came up with a set of tests that these vendors must adhere to. Some crucial specs include:
Pages Per Minute(PPM)
Pages per minute(PPM) measure how many pages a printer can print in a minute. This is an important spec to look at when you're considering an inkjet or laser printer, as it will give you an idea of how long it will take to iron or heat press your t-shirts.
If you need to turn around t-shirts quickly, you'll want to find the best printers for heat transfers with a high PPM rating.
Dots Per Inch(DPI) or Dots Per Centimeter(DPCM)
This is the measure of how many dots a laser printer can put down in a linear inch or centimetre. This affects the print resolutions of your prints, so you'll want to make sure that the printer you choose has a high DPI rating.
Duty Cycle
The duty cycle is the maximum amount of pages a printer can print per month. This is important to look at if you plan to heat press many shirts, as you don't want your printer to break down from overuse.
Duplexing, Postscript, and Drivers
Most printers can print on heat transfer paper for both sides of your custom t-shirt. If you don't need this functionality, you should double-check, as you'll end up wasting more tonner or pigment based inks.
Best Printers can print on heat transfer paper in different languages, but it's also essential to check and see if the printer you're looking at is compatible with your operating system's drivers. Windows and Mac both have different printer drivers, so you'll want to make sure that the all in one printer works with both systems and can handle heat transfer paper.
Price vs. Quality
You obviously have a budget for buying a printer for heat transfer, but it's also important to consider the printing quality you'll get. If your budget is tight, don't disregard a printer because of what it costs, but don't go too low with your budget either.
If you choose a printer below your budget, you might end up with an inferior product that could potentially break down.
The printer you choose should be able to give you the quality prints that you're looking for at an agreeable price.
Connectivity Options
If you're printing at home, chances are you'll want to hook up the printer directly. If this is the case, make sure that the printer you choose is compatible with your computer or laptop. Some connectivity options to look for include:
Wi-Fi Direct: Wi-Fi Direct is a wireless technology that allows devices to communicate without the need for a wireless access point.
This is a convenient option if you print from your laptop or phone. Make sure that the wireless printer you choose has this functionality, as it will make heat transfer prints easier for you.
Ethernet: Ethernet is a physical network that allows the printer for heat transfers to hook up directly to your router or modem. If you're planning on screen printing at home, this would be the best option, as it allows you to print from anywhere in your home.
USB: USB is a physical connection between printers for heat transfers and computers or laptops. If you have a computer or laptop already, this will be your best option for printing heat transfers from home.
NFC: NFC stands for near field communication and is a type of wireless printing connection that allows devices to connect through radio waves. If you have a smartphone or tablet, this will be an easy way to print from your device.
Printing Speed and Quality
When choosing a heat transfer paper printer, you should look at how quickly it can print. A printer's speed is measured by pages per minute (PPM). This is important to consider if you plan on quality printing, as you don't want to be slowed down by a regular printer.
The best heat transfer paper printers come in different sizes and styles, and some inkjet heat transfer paper printers can print a wider variety of shirts than others. If you want to do fabric printing on a lot of different types of clothing, make sure your printer is compatible with varying kinds of shirts; otherwise, you'll be limited to what you can print.
Printers also come in different formats. Some inkjet printers can print many designs on a single shirt, while others can only print one design at a time. If you want to print a lot of designs, make sure the heat transfer printer can accommodate that.
Maintenance Costs
Digital heat press printers also come with different levels of maintenance. Some printers need to be cleaned more often than others, and some have higher dye based ink costs. Make sure you're aware of the maintenance costs before you buy a printer, as some can be quite expensive in the long run.
Refilling Ink
If you're buying inkjet printers, there are two options for refilling ink. Some printers have their inbuilt refilling system with ink cartridges, while others require an external system.
If you want a printer for heat transfers that doesn't need a separate refilling system, make sure it has its inbuilt printing ink system. If not, make sure you know the costs before buying it.
Using Alternative Printing Material
Some printers can be used with different printing technology. If you're looking for versatility, look at the different types of printing material your high quality printer can handle. The more types of printing material it can handle, the more versatile you'll make your printer.
Bottom Line
Every person's printing needs are different, so it's essential to consider your specific requests before buying a printer. Once you have your requirements figured out, you can find a printer that will give you the results you're looking for.