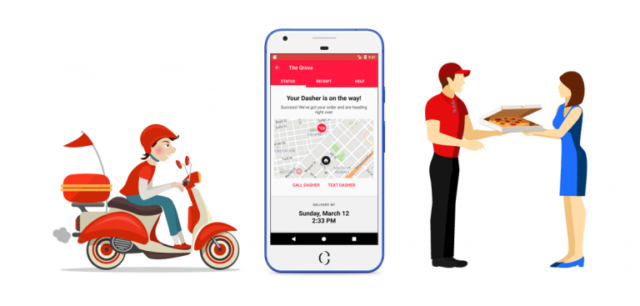 With technology, advancement comes a lot of simplified solution which is why if you see today, you shall be amazed to know how many businesses are gaining profit out of it. Talking of which the mobile app solution is one such amazing thing which must have happened to many restaurants business. With such an approach it is not just the customers but also businesses that are benefiting to a great extent.
If you are wondering how On-demand Food Delivery App development can help your restaurant business then certainly this is the right place where you have landed up. Here you shall find all answers for your queries with regards to the mobile app and gain the best solution from it.
Mobile Application and its Advantages
Food ordering apps over the past few years has gained a lot of popularity. It has made the modern lifestyle quite simple. Due to this, food can be delivered anytime and anywhere. With such a good response, naturally, you might be wanting to take an opportunity to use such an app.
By creating a food delivery app is that you don't have to focus on the size of the market. It does not matter how many food competitors you have, as long as you are building an app or your business is a part of it, profit will never go in vain. Here are some more benefits explained in elaborating manner.
Know more: Top 2 New Programming Languages of 2020 For Making a Passive Income
Regular Essentials Supply
There are many amazing features of the mobile app. For the restaurant business, the On-Demand Food delivery solution with the feature called "leave at my door delivery" can be helpful. Some restaurants in today's crises of COVID 19 also deliver groceries and essentials.
They can thus increase their selling through the app without violating social distancing. For the contactless delivery, this type of solution can be helpful since there are many businesses for whom their employee's safety is equally at primary factor which they don't want to ignore.
Smooth Customer Experience
For any restaurant business, good customer experience matters the most. With a mobile app solution that offers on delivery service, your business shall be able to deliver a smooth customer experience with not much of the waiting time. If the table booking is done well in advance through the app, then it comes easy for the planning on getting food delivered for the other customers at the doorstep by using on-demand food delivery.
The concept of On-Demand Food Delivery Software gained popularity for most of the restaurant chains who were not able to organize the delivery process as the customization scope was challenging. But with such an app, most of the owners have heaved a sigh of relief.
Talking about customizing, such an app is capable to order and deliver the food at the doorstep in a much easy manner. Since most of the control is in the hand of the customers right from the timing when they want food to get delivered until the food choices, it becomes more convenient for them to order.
Besides they also get every notification about the delivery status which makes them rely on such concept and thus can feel like ordering their favorite food from your restaurants as and when want.
Control on In-Store Visits
We are living in pandemic crises that occurred due to COVID 19 which is why minimal human contact is important. Since the risk of virus spreading has increased quite a lot, to take preventive measures is the utmost priority for everyone.
Thanks to the Food ordering app for restaurants, they can now keep maximum people away from visiting their restaurants without getting their sales affected at all. The app makes it easy to order and receive the food items at the doorsteps and thus, customers can skip visiting the store.
No Restriction to Target Audience
There were so many customers who despite being food lovers only preferred ordering food from nearby hotels who can deliver the food at your doorstep. But thanks to the food apps, it is now possible to order food from other parts of the city too. This makes it even for the restaurant businesses to enter into the competition irrespective of the location as they get a better field to target a large audience around the city.
Better Boost to Customer Retention
Just like any other restaurant business that focuses on customer retention and generates reportative sales, of you are looking forward to the same then you must get a food delivery app. With this app, customer retention becomes a lot simpler.
Of course, it is important to have customer retention which can give your business a steady sales and better growth. But it is also important for branding and earning loyal visitors. Food delivery apps can take care of all as there are many incentives and offers which such an app comes up with.
This way, customers are always updated about the deals and discounts they get from the special menu through such an app on time. Thus, customer retention becomes possible for restaurants.
Overheads Are Reduced
Many people these days prefer ordering food items using the delivery app. This way their extra expense also cuts down. This means the extra expense of paying the waiter to understand what is the menu consists of or hiring a person serving food to the customer. This helps many businesses to maintain the market without any problem.
Make Your Brand Visible-On Demand Food Delivery
With on delivery apps, it is now possible for the restaurant owners to give their brand better visibility for the large audience. This can help them great and promising robust brand presence and thus stay in the competition. You can consider the option of starting with a food delivery app to give your business a better and bigger reputation so that taking a loan for expanding becomes easy. Besides, it also helps in better customer experience too.
Final Words
Surely, to create a food delivery app can mean a lot for your restaurant business. But to make it work, you need to hire a software development team that can understand your business features and proposition and come up with an impeccable app matching your business requirements.