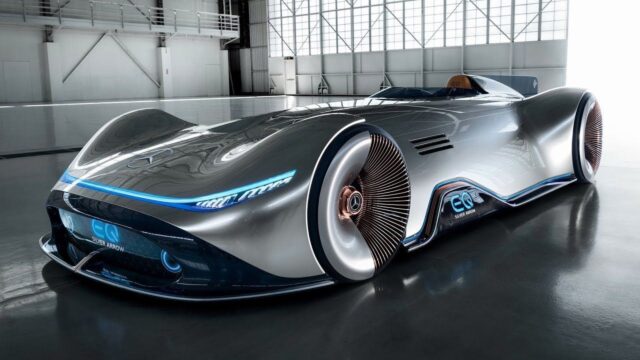 There have been so many innovations in the tyre industry over the years. Earlier, wooden wheels were used to propel a vehicle forward. Then, the first pneumatic tyre was developed by John Boyd Dunlop in 1888. Pneumatic tyres the rider an overall smoother experience. They can absorb unevenness of the terrain. Today, we can witness the run-flat technology, which can sustain puncture failures. The vehicle equipped with the run-flat technology can be driven up to 100 miles even after the puncture. Who would have thought that the tyres would evolve so much?
Tyres are still evolving. Many key industry players like the Bridgestone are innovating new technologies.
Eagle 360 Urban Tyre by Goodyear
Goodyear presented a 3D- printed spherical concept tyre for driverless cars. It is designed to be a part of the vehicle's 'nervous systems'. It was presented at the Geneva Motor Show.
This Urban tyre is made from bionic skin. The bionic skin is constructed with a super-elastic polymer. This makes it possible for the skin to expand and contract. This technology also helps in determining the driving conditions such as weather and terrain. Then, this information is transmitted to the AI system, which allows it to adapt as soon as possible according to the weather conditions.
This tyre can also connect with other vehicles, and it helps in registering the information about the real-time surroundings. The tyre can also repair itself. You can always look up in the tyre size guide of your vehicle's manual to find the best fit. 
Superelastic Tyre by NASA
Apollo lunar tyres inspire the Superelastic Tyre by NASA. At first, it was seen as the development of missions to Mars. But now, it can also be used alternatively for regular air-filled tyres.
It is developed by NASA's Glenn Research Centre and Goodyear. The shape memory alloys help it to sustain high strain such as load-bearing compounds. This makes it capable for the tyre to withstand deformation without any permanent damage. It also provides superior traction compared to conventional pneumatic tyres.
The material in it resists puncture failures. This determines favourable automotive safety.
Vision Tyre Concept by Michelin
Vision Tyre Concept by Michelin introduced a 3D tyre that is airless, puncture-free, rechargeable and connected. This concept tyre was released at 2017 World Summit on Sustainable Mobility.
The concept of vision tyre uses biodegradable materials. It does not depend on air. Interior architecture can support the weight of the vehicle. This makes it impossible for the tyre to explode.
The tyre is endowed with sensors which provide real-time information about the road conditions. It also has an app accompanied by it which allows the users to change the destination.
Oxygene tyre by Goodyear
Oxygene tyre by Goodyear is 3D printed concept tyre. This concept was introduced in Geneva Motor Show. This tyre absorbs moisture from the road. This eventually converts it into oxygen through photosynthesis.
This tyre was built as a result of concern for rising air pollution in the urban areas. Electricity is generated by converting carbon dioxide into oxygen. This contributes to powering the sensors and artificial intelligence units.
Air-free bicycle tyre by Bridgestone
Bridgestone Tokyo-based company designed an air-free bicycle tyre. It is an air-free and puncture-free bicycle wheel. It uses a structure of spokes that extends across the inner sides of tyres which helps in supporting the user's weight. These tyres are made from the thermoplastic resin. It is completely recyclable.
Roadless vehicles by Ackeem Ngwenya
Roadless vehicles by Ackeem Ngwenya who is a graduate of Royal College of Art, built a set of all-terrain wheels. This is designed for the farmers in rural Africa to carry out the heavy loads. The aim is to replace the traditional method of "head-carrying". Ngwenya used stainless steel components to build a flexible cage wheel.
These wheels are to be mounted on an axle, so it becomes possible to use them on tricycles, trailers, wheelbarrows and light motorised vehicles.
Saferich Tyres is one of the car tyres that has been designed thoughtfully keeping in mind the needs of modern lifestyle and driving habits.