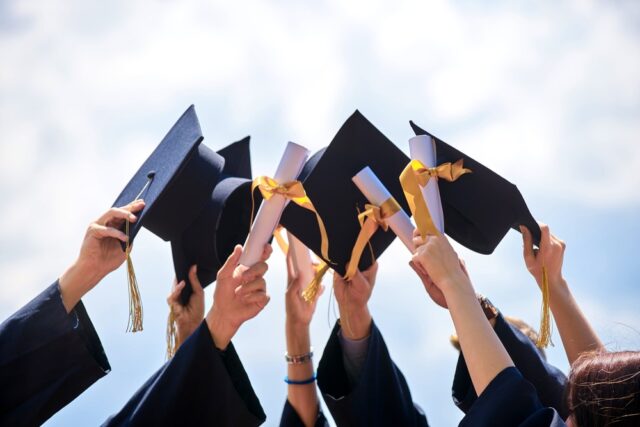 Graduation season is upon us! For many high schoolers, their graduation this year won't look like it has in years past. That doesn't mean they don't deserve great gifts to help them on their journey into the adult world or to appreciate their success. Here are some great graduation gifts that are perfect for your high school graduate this year.
A cozy blanket. A soft sherpa blanket is perfect for graduating seniors this year. They can lay it on the back of their couches, spread it across the bed in their dorm room or curl into it to watch a horror movie with their friends. It'll celebrate their accomplishment in a fun and unique way. Personalize it with their name, graduation year or even their school to make the gift even more special.
A plant. Plants are perfect gifts to give graduating seniors! Plants are a huge responsibility, and giving them to high schoolers who've just become adults is a great way to challenge them. They have to water it, give it enough sunlight and ensure it stays healthy — not unlike a pet! For your high school graduate, this is the perfect time for them to step up and get an insight into what owning their own pet or having a child would look like.
Start out small, such as with a succulent, a philodendron or an aloe plant. You'll want to choose one that doesn't require a lot of water or doesn't require frequent watering. That way, if your graduate forgets to water it once or twice, the plant won't wither away and die off.
A set of pots and pans. Depending on what your high school graduate is doing after graduation, a set of pots and pans is a good investment to make for them. With all your years of cooking, you're sure to have found the cookware that's worked best for you — and you still know best for your graduate, even if they are an adult now. Consider giving them a set of pots and pans for their adult journey; even if they don't use them right away, it's one less thing they'll have to get when they move into their first apartment.
A frame to remember you by. You probably took lots of pictures of them during graduation — walking across the stage, smiling with others, even showing off all their regalia. What better way to memorialize their graduation then by giving them a personalized picture frame?
Whether it says "Congrats! Love, Mom" or something more closely related to their graduation, they'll still love having a frame to place some of their favorite memories in. It'll be great decoration for their office, dorm or bedroom at home. You can give them a frame for a variety of occasions and loved ones — one for their senior beach trip, one for their grandparents and even one for their siblings!
An ornament. Their first Christmas after graduating high school is special. It's the first one where they're an adult! Getting them an ornament to commemorate their graduation is a great gift to give your high schooler.
Ornaments are the perfect engraved gift because you never stop needing them! They really add something special to your Christmas tree, and your high schooler can also hang their ornament year round. It can hang from the corkboard of their desk or on their wall as a decoration. Personalize their graduation ornament with their name and the year they graduated. Consider finding one in their school colors, too! It's a sweet and unique way to congratulate them for all they've accomplished.
An air fryer. Air fryers are all the rage these days, and for good reason! They're the perfect alternative for college students or young adults who are just starting out because they can make a variety of foods without needing to have a stove or violate any rules with a singular burner.
They can make all their favorite snacks, such as popcorn and chips, plus some other entrees, such as fried tendies or even baked potatoes! It's the perfect solution for any young adult just getting out there on their own. With so many meals they can make, they'll become a pro chef in no time.
A tote or duffel bag. If they're going away to school, a tote or duffel bag is a great gift idea for your high school graduate. When they come home on the weekends or go on weekend trips with their friends, they'll need something to pack their clothes in.
A large tote or duffel bag with lots of pockets is ideal. They can have all the items they need, plus some space for extras, such as souvenirs from trips they take. It can also double as a gym bag or a grocery store bag. They'll be so thankful to have an extra bag they can place items in when they're on the go.
A handmade basket. If you crochet or knit, a handmade basket is perfect for your graduating high schooler. Get your smaller hooks or needles out, along with some thick, sturdy acrylic yarn, and whip up a tightly woven stiff basket with handles for your high schooler. They can use the basket as a hamper, to store their towels or place any blankets in.
Consider making baskets of various sizes for them to use in a variety of ways. You can even make a couple of square or rectangular ones that they can place on their desk or in their storage cubbies for some additional decor.
Wireless charging station. Your high schooler is probably glued to their phone or other electronics all day. What better way to congratulate them for their accomplishment than by getting them a wireless charging station? Chances are, if they're going to college, their addiction to their screen will only get more intense. From writing papers to crafting online presentations, they'll need to be sure their phone, watch and headphones are charged up and ready to go.