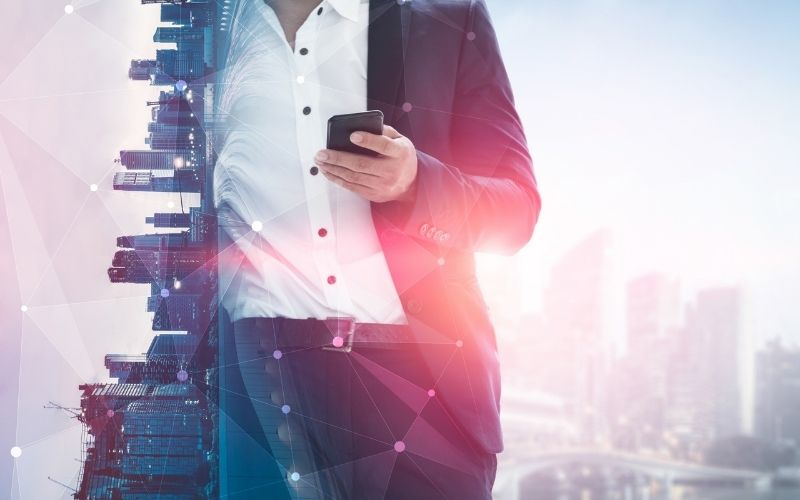 Accumulating data from various smart applications and processing it in a common language for ease of communication is the sole purpose of IoT. Through it, valuable real-time data generates as per requirement.
In a layman's language, IoT in Digital Marketing allows a one-stop destination for brands to grow faster through data transfer, accessibility, Artificial Intelligence, video and social marketing.
With the presence of IoT, digital marketing gets an edge! The transform of online marketing has shown it in detail. Through the growing use of smart applications, we presume interesting changes to take place in 2021.
Let's learn more about it through this blog!
Now, what's IoT?
IoT, an acronym for Internet of Things, is a simplified platform that allows better network connectivity and data transfer between applications or electronics via sensors. Such devices could be anything such as smartphones, watches, secure locks or other smart appliances for the home. There are four major components of bolt IoT that make things happen – sensors, Big Data, User Interface and gateways.
These sensors after data collection from various smart devices share it within each other over a simplified network. In 1999, a famous brand Procter & Gamble's Kevin Ashton coins the term 'Internet of Things', known otherwise as Machine 2 Machine communication.
What is the Significance of IoT in the Digital Marketing Era?
The primary aim of IoT is to improve the standard of living beings, through the ease of user-oriented appliances. For instance, your smartwatch gives you accurate data about the number of steps covered, blood pressure count, etc. It also provides accurate data of the connected devices, like phone call alerts.
Similarly, smart security locks also work through voice-automation sensors to ensure advanced protection. With the latest technology developments, smart air-conditions, heaters, door locks or music systems work in synchronization with each other. The only secret to this technology is the Internet of Things!
Due to a fast-paced lifestyle, such developments of applications are the need of an hour now. Moreover, it provides a systematic and controlled ambience for a better lifestyle. The importance of the latest IoT technology has also paved ways for firms to scale-up operations.
With the latest updates in IoT, a large number of customer information is accessible which increases revenues for businesses. With continuous development in the digital era, such databases via IoT become influencers for brands to expand. Through our IoT blog, you can comprehend what transformations are yet to come in 2021 due to such smart mechanisms.
Ways IoT will Bring Revolutions in Digital Marketing in 2021
Improvements in a Customer's Lifestyle:
Through smart applications, a large amount of data becomes available to various businesses. You can comprehend customer needs and requirements better from the information accessed.
For example, smartwatches allow access to the entire routine of an individual throughout the day. Through other devices, various other information becomes available to various brands.
The relation between IoT and digital marketingensures the development of effective marketing strategies. The goal of information collection for brands is better positioning of their product or service in the target market.
Thus, through developments in IoT, companies can render better services. Moreover, marketers can understand the demands of specific products, reducing wastage and improve service quality.
Better Comprehension of Customer's Buying Behaviour:
Through IoT, most digital marketers in Kolkata and of other places can gather a clear picture of the customer's buying pattern. We can analyse the buying trend of a customer from their buying history.
With the Internet of Things, a lot of data becomes accessible to firms. Through information collected from various sources, a various social media marketing agency can take a dig at the changing market scenario.
Consumer's purchase pattern is an indicator of numerous business firms. It helps them to change their marketing strategy and top the charts!
Massive Transformations in SEO and Google's Search Results:
Another predictable result of 2021 because of IoT in digital marketing is major changes in the SEO sector. Since 2018, there has been a constant growth in the Search Engine Optimization industry from around 72 to 79 billion dollars in 2020.
Major beliefs hold that the search results shall continue to grow bigger in 2021 due to continuous developments in IoT. Due to an in-depth knowledge of customer's likes, tastes and preferences, the SEO expands many times better!
Multiple IoT devices have led to a paradigm shift in SEO. It has concluded to better search results due to predictive customer demands. Thus, IoT has a lot to transform in the digital marketing field in future.
Ultimate Address to Customer's Requirements:
The combination of IoT in digital marketing has a lot to offer in terms of customer needs. Customer service is what most brands look for in today's competitive world. Access of real-time data allows marketers to meet their consumers with desired products and services.
Thanks to predictable problems through device sensors, marketers are already aware of the upcoming concerts. Moreover, they are ready with solutions to mitigate the issues in advance.
Solving such concerns, understanding consumer's needs on time are the enormous transformations that IoT can show in the upcoming years.
Ace Product or Service Development in Future
Thanks to a simplified network IoT, that helps in improving products or services through better comprehension of customer's requirements. Additionally, a lot of things improve as devices get smarter.
With updates of devices to Artificial Intelligence, overall office productivity shows improvement. Through the incorporation of IoT in digital marketing, experts continuously try their best to improve devices with collaboration of customer database.
Also, demand forecasting gets easier for major market leaders in the future through IoT. Hence, we can assume more digital rulers to come in the limelight in 2021.
Know More : Top Tech Trends
Allow a Customized Touch in Every Sphere
With assistance from IoT, many brands consider making persistent efforts in adding a personalized touch to their services. As IoT allows brands to gather information about a consumer's preferences and requisites, they can think of customizing products.
With a personal touch to services offered, marketers get a broader opportunity to connect with their target audience. Also, it helps them to position their brand appropriately.
Also, knowledge about their daily routines helps brands to know the difficulties. Further, it helps in SWOT analysis of their services and achieving a larger market share in future.
Ensures Real-time Reporting of Data
IoT helps in real-time lodging of data (also known as Microsoft Cloud) for preserving and analyzing the data in future. With data storage, you as a company can face any adverse situations.
Also, responding to changing demands or preparing back-up strategies gets easier for businesses embarking digital presence. Through IoT, enormous information is accessible to small and large firms for future development.
A Final Word
IoT paves for a top digital marketing company in Kolkata to transform online business strategies. Also, access to Big Data helps in generating more accurate insights for various companies.
A detailed insight on the customer's buying trends, likes and preferences help a business to grow manifold times. It eventually helps in the development of effective marketing campaigns leading to increased revenues. 2021 assures collection of massive data as India grows digitally stronger, thanks to the presence of IoT.
With IoT, online marketing gets the edge like never before. We assume that IoT in digital marketing will pave new paths for small and large-scale industries to win the online race in 2021!
Know More: How to make money using network marketing