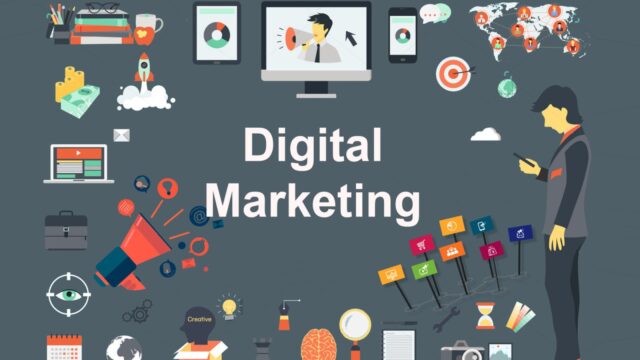 Digital Marketing is one of the most emerging career options nowadays. Many Students, Professionals, and Sole Proprietors are learning Digital Marketing Online to find job opportunities, improve their existing profile, and grow their business.
Learning Digital Marketing has become essential nowadays. The mindset of people has changed; before visiting a store, they surf online first. Online shopping has gained so much popularity, and if a business doesn't have an online presence, it will lose a large set of online customers. So, not to suffer that companies are looking for well trained Digital Marketers.
With the increasing demand for Digital Marketers, the number of Online Digital Marketing Course has also expanded. But the best Institute for Online Digital Marketing Course in India is Quibus Trainings. We will discuss it further in this article.
Now, Let's discuss these various ways in detail.
Ways to Learn Online Digital Marketing Course
There are various ways to learn Digital Marketing, Free or Paid, Live or Prerecorded, blogs or vedio. Let's discuss this in Brief:-
#1 Free Video Courses
If you want to gain knowledge of Digital Marketing basics, you may learn it through Free YouTube Videos. Also, various websites are offering free Digital Marketing Courses; some of them also provide certificates. There are multiple experts and Digital Marketing Trainers who have uploaded free Digital Marketing Videos on YouTube to learn Digital Marketing basics. However, these courses do not provide any Live Training or practical projects and assignments. And the rate of completion of these free courses is also very low. These are beneficial only for those who want to develop a basic understanding of Digital Marketing.
#2 Learn by following expert Digital Marketers on Social Media
Another way to learn Digital Marketing is through following the Social Media Handles of popular Digital Marketers. They regularly upload informational content from basic to advanced level. You can also ask your queries through personally messaging or commenting on their posts.
Also, Digital Marketing is a continuously evolving field. Now and then, new algorithms keep on coming. So, to stay updated with that, you should follow popular Digital Marketers.
#3 Read popular Digital Marketing Blogs
There are various Digital Marketing blogs providing basic to advanced information on Digital Marketing. Prominent industry experts write Their articles. Reading the articles regularly can help you enhance your Digital Marketing knowledge.
#4 Paid pre-recorded Online Digital Marketing Courses
Various institutes are providing pre-recorded Online Digital Marketing Courses. These are paid courses, so you get full and in-depth knowledge of Digital Marketing and not just the basics. All the essential modules of Digital Marketing are covered in these courses. But, since these are pre-recorded sessions, the students couldn't have one-to-one interaction with the mentor.
#5 Paid Live Online Digital Marketing Courses
These are the best amongst all. If you want to get in-depth and practical knowledge of
Digital Marketing then Live Online Digital Marketing Courses are the best. You may take this course from anywhere in the world and yet get the feeling of a Classroom Course. These Live Online Courses offer the advanced knowledge of Digital Marketing along with the opportunity to get all your doubts cleared in hand.
But this is only possible if you choose the Best Online Digital Marketing Course offering all the major modules of Digital Marketing being taught by an experienced trainer.
So, below we have included the institute which provides Best Digital Marketing Online Training.
Best Institute for Online Digital Marketing Course
The best institute offering a Live Online Digital Marketing Course is Quibus Trainings. They provide 100% Practical, Advanced, and In-depth Digital Marketing Training, covering all the major modules. 
Their Course Modules include –
Domain and Hosting Management
Mastering WordPress
Search Engine Optimisation
Social Media Marketing Email Marketing
Youtube Marketing
Social Media Ads
Google Ads
Mastering Canva
Quora Marketing
Google Search Console and Analytics
Affiliate Marketing
To learn these vast modules, there is a need for an experienced trainer. And the Trainer and Founder of Quibus Trainings are Mr. Parmveer Singh Sandhu, an Expert Digital Marketer. He has more than ten years of experience in the Digital Marketing Field. He has taught Digital Marketing to more than 1000 students from all over India.
Apart from it, he is also a YouTube Silver Button Achiever and has worked with 100+ satisfied Clients through his Digital Marketing Agency Quibus Technosys, from all across the globe.
After completing the Digital Marketing Course, the Students are awarded certifications and are also offered an opportunity for an Internship.
The Online Digital Marketing Course of Quibus Trainings is beneficial for almost everyone, be it Students, Business Owners, Marketing Professionals, or MBA Graduates.
Students could attend the classes from anywhere and be provided with backup recordings if they missed a class.
Hence, the best way to learn Digital Marketing Online is through Live Online Classes and that of the best institute and highly experienced trainer.